Unified Analytics is an emerging capability enabling companies to leverage their data assets using a common analytic platform to drive collaboration across data scientists and data engineers. The goal is to help organizations accelerate the development of data pipelines across disparate data systems that support Artificial or Machine Intelligence (AI/MI) initiatives.
This requires organizations to establish or mature their ability to centralize data where possible, interface with business systems using application programming interfaces (APIs) and provide a user-friendly ability to search and explore a common data catalog. In addition, users need an analytics platform that offers highly intuitive interfaces that are designed to mask the complexity of the underlying data architecture. This includes the ability to help users visualize and interact with their data, embedded machine learning frameworks and the ability to automate the process of analysis.
Databricks Unified Analytics Platform, developed by the original creators of Apache SparkTM, provides enterprises with an integrated solution allowing them to modernize their analytic workloads.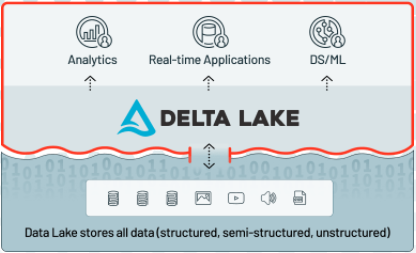 Delta Lake is an open format storage layer that delivers reliability, security and performance on your data lake — for both streaming and batch operations. By replacing data silos with a single home for structured, semi-structured and unstructured data, Delta Lake is the foundation of a cost-effective, highly scalable lakehouse.
The Machine Learning Runtime (MLR) provides data scientists and ML practitioners with scalable clusters that include popular frameworks, built-in AutoML and optimizations for unmatched performance
SQL analytics on all your data
A SQL-native environment to query and visualize data directly in your lakehouse and easily share your insights by grouping visualizations into live dashboards. Additionally, you can use your existing BI tools to directly analyze data in your data lake
Perform quick exploratory data science or build machine learning models using collaborative notebooks that support multiple languages, built-in data visualizations, automatic versioning, and operationalization with jobs
Enable Data and Databricks collaborate closely to understand customer use cases and implement production-ready solutions. We work with ecosystem partners to bring the right tools and techniques that align with customer standards or expertise whether languages, data management, business intelligence or machine intelligence tools.
For information about Databricks or Enable Data please contact:
Chris Mische
Managing Partner
Enable Data Incorporated
(c) 651-492-8440
(e) chris@enabledata.com
Enable Data Hosted Events